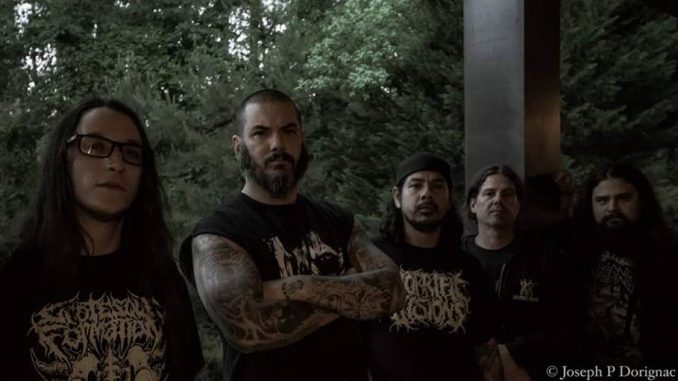 By JGrill
Philip H. Anselmo and the Illegals released their first album, "Walk Through Exits Only" in 2013.  The band was comprised of Philip on vocals, Stephen Taylor (Bass), Marzi Montazeri (Guitar), and Joey (Blue) Gonzalez on drums.
In the three years since the band's first release, their line-up has changed.  Stephen Taylor and Mike De Leon are playing guitar, Blue is still pounding the skins, and they have welcomed new bass player, Walter Howard IV.  They are currently writing and recording in Nodferatu's Lair in Louisiana with Philip.  Fans of this particular Housecore Records band are frothing at the mouth in anticipation of their sophomore release.
Walter Howard IV kindly agreed to a short interview.
MOJO:  Can you please provide a little background information about yourself? Where you reside, musical background, previous and current bands? How did you start your musical journey?
WHIV:  I live here in San Antonio, Texas.  I've been playing actively since 2008 in various projects.  The longest project and the one that got me the gig in the Illegals is called Vaginal Bear Trap (VBT).  Other projects I have played in since that time are Oppressive Force, Grieved, and Ballgag.  I started back when I was eighteen (I'm twenty-six) when I met Shane from Vaginal Bear Trap as a freshman attending the University of Texas at San Antonio.
MOJO:  You have revealed you will be playing bass guitar on the new Philip H. and the Illegals album.  Do you play other instruments?
WHIV:  Aside from the bass, the only other instrument I play is guitar.
MOJO:  How did you procure the new gig with Phil Anselmo and the Illegals?
WHIV:  I played a show with Mike De Leon's (the Illegals new guitarist) other band, Flesh Hoarder with Vaginal Bear Trap.  Mike had just gotten   back from Philip's and said they needed a new bass player.  Mike and I  had been playing shows with each other since 2008 in the Texas Death Metal Scene.  He figured that I would be the perfect fit for the gig once he               watched me play.  Joey (Blue) Gonzalez (drummer extraordinaire for Warbeast, Superjoint, and Philip Anselmo and the Illegals) and I also go back to when I lived in Dallas.  We prospected for a Mosh Organization called the Pit-Bulls.
MOJO:  What two words would you use to describe the new Illegals material?
WHIV:  RELENTLESS and BRUTAL!
MOJO:  If you could learn a new instrument, what would you choose and why?
WHIV:  I would love to learn how to play a synthesizer for the sole purpose of watching horror movies and making my own soundtrack.
MOJO:  What musical artists have influenced you both lyrically and musically?
WHIV:  I would have to say Chuck Schuldiner of Death.  His music is a good  reason of why I wanted to play guitar in the first place.  Death's lyrics have always been a great part of their music, as well.
MOJO:  Do you do anything special to prepare yourself before taking the stage?
WHIV:  Nothing much, really.  Usually, I will jam to some of the songs before I get  on and smoke what I have to smoke.
MOJO:  Most of us have a song or album that holds a special place in our heart.  It either takes us back to a happier time or was inspirational.  What song or album would that be for you?
WHIV:  Death's album, "Symbolic" for me, would have to be the most pivotal album of my life.  I jammed that album over and over again whenever I heard it.  I  wanted to learn how to play and write riffs like Chuck.
MOJO:  Can you please name your top five bands regardless of genre?
WHIV:  1. Black Sabbath  2. Death  3. George Jones  4. Terrorizer 5. Morbid Angel
MOJO:  Finally, what does the future hold for Walter Howard IV?  While we cannot cannot predict our future, what do you hope to accomplish and achieve?
WHIV:  While I wish I could predict the future, I know we are going to spread the new Philip H. Anselmo and the Illegals all over the world!!  I hope to tour and record with VBT.  All in all, just total WORLD DOMINATION!
There has been no official date given for the release of the new Philip H. Anselmo and the Illegals album, but rest assured, it is on its way!
Walter's band, Vaginal Bear Trap can be found here:  Facebook.com/vbtgrind and Vaginalbeartrap.bandcamp.com
Philip H. Anselmo and the Illegals:  http://www.philanselmo.com/theillegals/