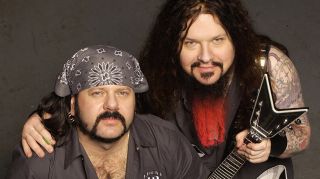 By : Jennifer Grill-Gayton
The final nail in the coffin…the Pantera coffin…with the untimely passing of drummer extraordinaire Vincent Paul Abbott (Vinnie Paul) on June 22, 2018 any hope of a one time resurrection sans Dime was finally laid to rest.
Yes, I know….Pantera was lost that tragic day in December of 2004 when a deranged mad man took the life of Darrell Lance Abbott. The debate over whether Pantera could ever reunite with the three surviving members has raged unabated for years on social media and in print publications. While the idea seemed ludicrous I know many of us secretly harbored a desire to see a one time reunion to honor Dime. Did it seem likely? Nope, not really considering the acrimony between Vinnie Paul and vocalist, Philip Anselmo. However, that did not stop me from pondering the possibility. The saying "never say never" was a popular refrain in my Pantera loving brain.
Vinnie Paul is a legend. Once the initial shock wore off after hearing the sad news, I felt a deep sense of mourning. Not just for the man, but also for the loss of what could have been. It is really hard to fathom that both Abbott brothers have left this world. The inevitable questions of what if Pantera had not initially broke up, if Darrell had not been murdered, if even after those events they could have come together for a tribute will haunt me forever. Dramatic? Maybe…but when a band touches your life it is hard to let go of the fantasy.
Pantera fans are left with memories, a timeless discography, and two surviving members. I wish we could bubble wrap both Philip Anselmo and Rex Brown and keep them safe forever. The Rolling Stones are elderly and still alive and kicking. How did a band from a later generation lose so much so damn quickly?
We must continue to carry the Pantera flag and wave it proudly. We must tell the younger generation of their greatness and spread the word. Dime and Vinnie may be gone, but it is our duty to keep the music alive and relevant. Pantera is to be revered; for what was, could have been, and now will never come to fruition.