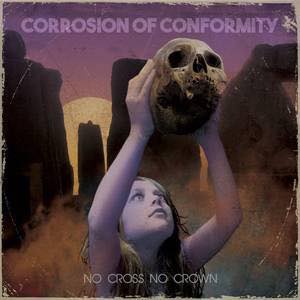 By Jennifer Grill-Gayton
Ah…reunited..and it feels so good….that's right…Pepper James Keenan has rejoined his band mates in C.O.C. (Corrosion of Conformity). The band, on hiatus, after the release of their 2005 release, In The Arms of God unified in 2010 without Keenan. The band recorded and subsequently released three albums in the ensuing five years. In 2015, C.O.C. formally announced the return of Pepper Keenan to the delight of every C.O.C. fan across the globe.
No Cross No Crown entered the musical universe on January 12, 2018 on Nuclear Blast Records. While I knew it would be better than average, I was hoping for a return to the Deliverance era of Corrosion of Conformity. I enjoyed the last album with Pepper, In The Arms of God but when I listened to the albums sans Keenan I felt a deep sense of loss. Yes, that's right….loss. We all know, Keenan arrived a bit later to C.O.C. However, his presence was huge and his absence noted.
NO Cross No Crown is, in fact, a return to the Deliverance sound, but also a seamless follow up to In The Arms of God. Woody Weatherman (lead guitar), Mike Dean (bass), Reed Mullin (drums), and Pepper Keenan (rhythm guitar and lead vocals) have created a timeless addition to their overall catalog. The first single, "Cast the First Stone" is a groove infected song which loudly proclaims the band's return to dominance as a southern force with which to be reckoned. It warns to be wary of the cross and crown. Keenan's vocals remain unchanged. Gritty, energized, and commanding.
The fourteen tracks which accompany "Cast the First Stone" are sharp, varied in style, but showcase the talent found within C.O.C. Track number nine, "Nothing Left to Say" is bluesy, and lyrically has an ethereal quality. Woody Weatherman puts it all on the line with his excellent guitar work. It is reminiscent of "13 Angels" from their 2000 release America's Volume Dealer in terms of emotion and the imagery it evokes in the listener.
It would be entirely too pleasurable to sit and review each new song off No Cross No Crown. However, I would rather invite anyone who has not yet purchased this album to do so carrying the knowledge they will not be disappointed.
Highly Recommended 10/10